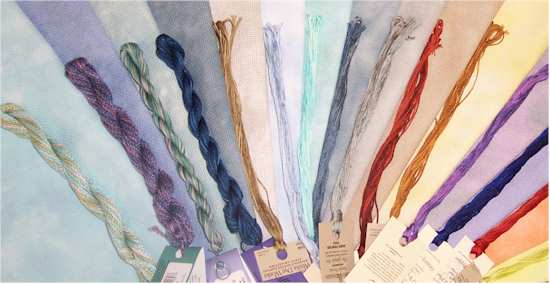 Stitch 'n Frame
2201 68th
Windsor Heights, Iowa 50324
515 270 1066 voice
email: stitchnframe@att.net
Shop Availabilty: Tues, Wed and Fri
Noon to 3:00PM
Sat 9:00 - Noon


Home of Springberry Kreek Designs
What Type of Needles to Use in Stitching.
We had a stitcher come by yesterday wanting a sharp needle to stitch with. She selected a 24 chenille. Why? Because it was difficult to insert the needle under the threads to tie off. If you are having this type of difficultly, a sharp needle may not be the answer. Try a smaller needle so that it can slide under the stitches better. Do you know sizes and types of needles to use?
Needles are essential for stitching. Right ..DUH? The needle is very important. Use the incorrect needle and things will not go very well and can cause errors by splitting the aida weave. Not so much on linens or linenlike fabrics. Tapestry needles have a blunt end and will not split the fabric weave. They are in various sizes where the number is inverse to the size. In other words, the bigger the number the smaller the needle. Big to small 16, 18, 20, 22, 24, 26, 28. There is also a 12 but that needle is a monster.
Needles come in all sizes and types as I have said. There is also all companies that make needles. John James makes the Gold coated and the Platinums along with tweens and petites. Gold are gold coated for longevity. Same with the Platinums. These coatings are not supposed to react with the fingers and not discolor and pit as quickly. The tweens are the sizes that are in between the standard sizes such as 23 and 25. The petites are those needles which are shorter than the standards. There are alot of companies that sell needles - you have to find the one you like. Bohin; John James; DMC; Clover and many others. We encourage our stitchers to try Permins. They are relatively inexpensive and feel like the Platinums. They are on our website if you would like to try them next time you order, or you can stop in the shop and ask the the needles under the counter. I think I have covered the basics of stitching needles. Any Questions?